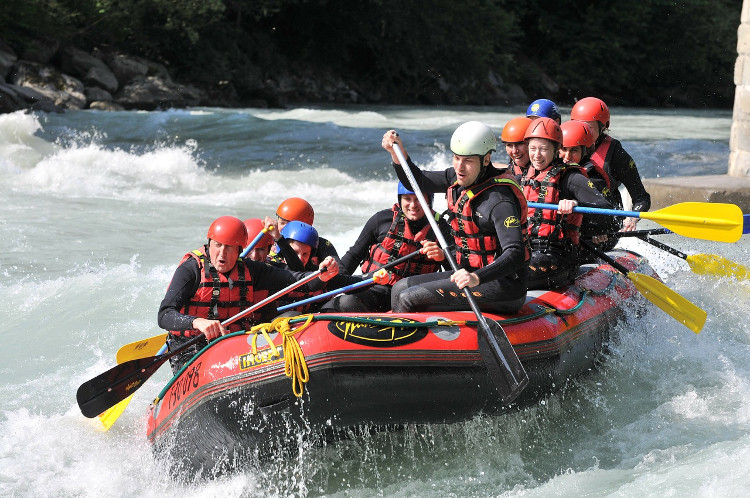 Many families are fortunate enough to be able to take yearly vacations. It's great to have the opportunity to visit popular urban attractions like theme parks and monuments with loved ones. Many households however, experience travel fatigue.
It can become stressful to plan urban getaways that include air, bus, train, taxi, and hotel services. The stress of urban life can easily eclipse any enjoyment factor associated with a family vacation. An answer to this conundrum is a planned excursion into the wilds of picturesque American river systems.
Outdoor adventures for families sometimes fall from the radar because moms and dads never really consider a natural environment to be a prime location for a family outing. If the idea for a family vacation is fun and memorable moments, a whitewater river journey could be the best option.
What Happens on a Whitewater Adventure
In states like Colorado, Montana, and Idaho there are endless river systems open to the public. Most of the rivers in these states feature whitewater areas that are accessible to adventurers. Along with access, a host of vacation amenities are offered by local guides.
Chartering a whitewater trip is simple. It involves arranging local stay accommodations at a hotel near a waterway that is known for rafting and boating activities. Many whitewater adventure services offer camping locations. This is another great opportunity to involve the whole family in a unique wilderness experience. Camping is something that all family members will enjoy and remember.
The objective of a whitewater adventure is to master the twists and turns of a river, while steering a float raft. Steering a raft down a mountain river full of whitewater hazards is more exciting than a theme park ride, and more challenging than a busy system of city streets.
The Importance of Guides
Many families take vacations to areas where tour guides lazily prompt visitors through boring points of interest. On a whitewater excursion, a guide is an active member of a raft who helps each person paddle their way through a series of challenging natural obstacles.
A whitewater tour guide brings any family face-to-face with the roaring power of nature's most imposing force. River rapids challenge anyone in a raft to race down nature's highways. With the help of an experienced river guide, any family can experience a vivid ride through areas that are never seen by people taking normal vacations.
On a whitewater vacation, families can become part of interesting terrains, see amazing wildlife, and test their physical skills. The range of river choices is endless for people wanting to experience a whitewater adventure. Class I and II whitewater areas offer places to break new visitors into life on the water. Class III and IV streams present wild dangers and obstacles. Class V whitewater streams are normally reserved for wilderness experts, but they can be conquered by adventurous vacationers. There is a stream and whitewater vacation venue perfect for any family seeking something extraordinary.
Instead of trying to convince the entire family to go on another boring theme park vacation this year, think about something different. The wilds of the American interior offer vacation opportunities like no other locations in the world. Camping and whitewater rafting are ideal activities for forming memories, discovering new frontiers, and having a great time on vacation.